Bend Vinyl Signs
View Vinyl Sign Gallery
If you are looking for a great material to work with for signs, graphics, and banners, you need to consider vinyl. It is available in several options, can be used on multiple surfaces, and can be used for various business purposes. Your Bend vinyl signs, graphics, and banners provider, we have the ideal vinyl products to meet your business and product promotion needs.
At Stryker Designs, LLC, we specialize in all sorts of vinyl products and can even help you design them based on your business needs and ideas. We can also add your brand message anywhere you want and get the best impact. From eye-catching window graphics to full wall murals, even cut lettering and floor graphics, we offer virtually unlimited vinyl options.
If you don't know what you need, that's not a problem. Our Bend, TX vinyl signage team provides free consultations so that you know what is available, which vinyl product is perfect for your specific needs, and design it accordingly. We can even help you install your vinyl signs or graphics in the best place possible for the maximum impact.
Call Stryker Designs, LLC at (512) 601-8440 for your Free Consultation!
Promotional Vinyl Banners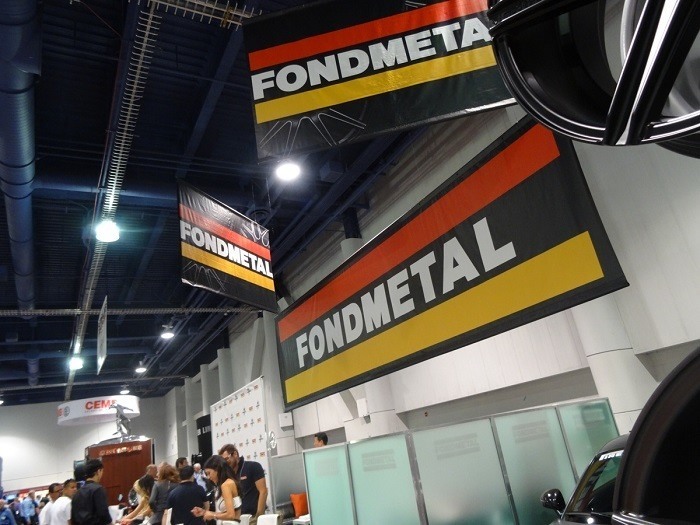 Banners are the most common vinyl product for Bend businesses. They come in various colors, sizes, and display options to match the brand of the business that is using it. The banners we fabricate at Stryker Designs, LLC are made from high-quality vinyl, which will not get damaged easily and withstand the elements if you use them for outdoor events. We will print your business message or information clearly so that people know what you are offering. We even do custom banners that work just for you. With a full range of material, finishing, and display options, vinyl banners are a highly-customizable choice for business, event, and product promotion.
Wherever you need your vinyl banners, we are ready to assist and make sure that they are perfectly executed, achieving your business goals in the process.
Window Vinyl Clings & Film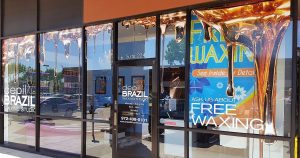 Vinyl can also be used on windows and glass panels and give you more space to promote your products or services. They can be used to provide specific information or to add more interest to your storefront, making it eye-catching and engaging for potential customers that are passing by.
In this case, vinyl can be in the form of cling wraps or film, which can be customized to display any type of promotion message you may want or offer privacy to the people visiting your business. You can get full coverage for your window with a full window film or can get specific decals, spot graphics, or lettering, depending on the overall impact you want your finished window display to have.
Whether you pick wraps or film, it can protect your windows from various types of damage, and you can also remove or reuse them without damaging the surface. Privacy window film is a very popular choice for organizations that want to provide privacy to their patrons without completely blocking the natural sunlight their windows offer.
Privacy film is an alternative to replacement etched or frosted glass panes. This is perfect if you don't own the building you are working on or not have the budget to replace the glass panels to your specifications.
Clings and wraps come in various elements, styles, and textures, and we at Stryker Designs, LLC can customize them based on your specifications.
Cut Vinyl Lettering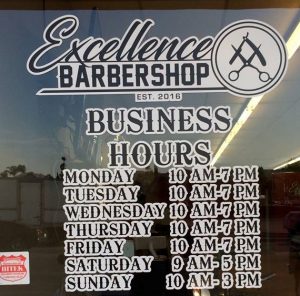 With cut vinyl lettering, you can add professional, semi-permanent lettering and messages to any flat surface!
These attractive vinyl letters can be perfectly designed to match your brand fonts, colors, and messaging. Whether you want an attractive way to promote your hours of operation, provide intuitive navigation information, or even add your DOT license information to your semi-truck, we have high-quality, durable, and branded solutions that work for you.
Cut vinyl lettering is professional and attractive, allowing you to display long-term messaging in a cohesive, eye-catching manner that provides clear and consistent information, and looks great while doing it.
Wall Murals & Floor Graphics
Aside from windows, you can also use walls and floors to promote your business or share information with clients or visitors. Vinyl graphics can be printed in large formats and can stick to any surface easily without damaging the surface underneath it.
The designs for wall murals or floor graphics depends on what you want them to look like. It can be a dynamic piece of art or merely key information you want people to know about the office or the locations around the office.
Vinyl wall murals are a great alternative to painted murals. Not only are they much faster to put in place, but they are also produced exactly to spec, so you know what your finished product will look like before we ever even begin printing.
Floor graphics can be used for both promotion or wayfinding. Produced from high-quality, durable vinyl, there are more places that you can use floor graphics than you may have realized. Not only can they be applied to tile, concrete, and wood flooring, they are also able to be used on asphalt and concrete outdoors, as well as even some low-pile carpeted areas. Floor graphics are great for product promotion in retail stores, keeping staff safe in industrial areas, and for assisting with wayfinding at trade shows and events.
We can help you determine how murals and floor graphics can be placed in your office and how they can make the most impact. Our expert vinyl installers ensure that all of your vinyl materials are properly finished and perfectly installed to best benefit your business and brand.
Vinyl Graphics Options
As mentioned above, vinyl is very flexible and can be used for any type of purpose you have. Selecting the best vinyl product for your needs can be challenging because of the options available in the market. If this is your first time promoting your business with vinyl, it can be overwhelming to choose the right one for your needs.
Here at Stryker Designs, LLC, you don't have to worry about all those problems. We can identify the perfect vinyl product for your needs and explain how they can help you meet your business goals. We can also provide vinyl material samples so that you understand the functions of the different vinyl materials, and recommend the appropriate products and materials that are best for your unique signage project.
Popular uses for vinyl graphics include:
Aside from being your Bend vinyl signs, graphics, and banners provider, we produce any other type of signage your specific business may need, from storefront signs and interior signs to vehicle wraps and event graphics. Let us know what you need, and we can deliver.
Full-Service Vinyl Graphic Shop
W are one of the best full-service Bend vinyl signs and graphic shops open. We assist with every step of your vinyl project, from conceptualizing the design, fabricating the product to installing it for you. We can also recommend ideas and options you may not have considered based on your business goals and preferences.
We are committed to making sure that our graphics and signs are perfect for your needs. You have full design control so you can get precisely what you want. We can use your existing layout, use Bend's current guidelines, or start from scratch. If you are happy with the design, we can fabricate it for you quickly.
We also do installation services, which is perfect if they are for large vinyl products like murals or window films. If you don't want to avail of our installation services, you will receive all the tools you need to install the product yourself and some advice on how to maintain it.
Free Vinyl Signs & Graphics Consultation
Stryker Designs, LLC is your Bend vinyl signage provider for the best and durable signs and graphics you need for your business, facilities, and other places where you need them. Whether you need vinyl banners or other graphic solutions, we are ready to assist and help you achieve your business targets today.
Call Stryker Designs, LLC at (512) 601-8440 for your Free Consultation with a Vinyl Graphics Specialist!