Thrall Business Signs
View Business Sign Gallery
Effective, functional, and high-quality, your custom blend of business signs, graphics, and wraps will feature your brand while improving business profitability.
As a complete sign company, Stryker Designs, LLC is a local partner for crafting enticing sign elements that gets your business noticed. Whatever your specific brand development and promotional goals or business size, our specialists design, create, and install the irresistible signage your business needs.
For everything from pop-up conference banners to impactful tenant, pylon, and pole signs, accessibility signs to lobby logo signs, our experts have the ability to develop separate elements for maximizing your business and brand visibility or a variety of complementary signage that highlights your corporate branding and gets your unique business seen. Our devoted crew of expert Thrall business signage providers is familiar with the distinctive goals of your business, and we are excited to get to work on your sign and graphic project.
Call Stryker Designs, LLC at (512) 601-8440 for your Free Consultation!
Cohesive Commercial Signs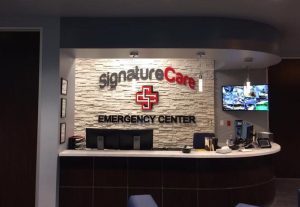 Attractive commercial signage makes you be noticed in your local market. Apart from featuring your business name and logo, custom business signage provides information that prospective buyers need, such as business hours, current specials, and ADA and accessibility features.
Help your brand stand apart from other local businesses, your competition, and the constant interruptions in your clients' lives with impactful, long-lasting business signs and graphics! Stryker Designs, LLC is your supplier of eye-catching business signs and graphics that support your company's development by producing an engaging and compelling facility.




Stryker Designs, LLC is inspired by your creative ideas to deliver practical commercial signage elements that promote your unique business and brand. Our talented sign and graphic designers are very skilled at understanding your requested plans and turning them into a customized sign design. We produce the right signage for you, including custom exterior signs to branded car wraps and graphics, lobby and office signs, and personalized promotional signage elements for both on and off-site use. Whatever your Thrall business sign and graphic concepts, pick Stryker Designs, LLC to turn them into reality!
Complete Business Signage
Commercial signage supports brand differentiation while positioning your individual business as a professional for your type of business. Personalized, branded business signage also helps control the public's professional view of what your business is all about. When you've got branded signage that matches the rest of your brand promotion and identification endeavors, you are boosting both your brand and also the expertise that your customers can expect from you. For your unique commercial signage needs or requested customization, Stryker Designs, LLC is your experienced local Thrall provider of attractive customized sign and graphic elements.
Regardless of whether you're an upcoming new business or a well-known local favorite, Stryker Designs, LLC provides you with expert solutions that support your commercial signage requirements. We offer unlimited options for how custom signage can be used to support your business development and growth. Our sign and graphic specialists suggest specific sign and graphic elements, positioning, designs, and materials that will deliver a lasting positive influence on customers, clients, and guests.
Our Thrall, TX business sign services include:
Our talented team has the tools and equipment, insight, and experience to create the most effective signs and graphics for your unique business needs. Commercial signage is a perfect method for easily displaying what your brand and business are all about.
Free Business Signs Consultation
Your complete Thrall business signs, wraps, and graphics supplier, our team of experts are dedicated to delivering impactful signs, graphics, and wraps that support your business growth.
At Stryker Designs, LLC, we deliver the dedicated support and talent necessary to deliver the commercial signage that shows just how special your business is. Whether or not you already know what you want, or if you need sign planning and design support, our professionals are here for you. Stryker Designs, LLC is ready to become your local manufacturer of high-quality, professional commercial signs.
Call Stryker Designs, LLC at (512) 601-8440 for your Free Consultation with a Business Signage Specialist!