Davilla Outdoor Signs
View Outdoor Sign Gallery
Promote your business and brand with eye-catching, effective outdoor signs which can showcase your brand even from a distance. However, since these signs are very large and must be tailored perfectly for your business, you need a company you can trust to build them for you. Stryker Designs, LLC is your dedicated Davilla outdoor signs company.
Whatever type of outdoor signage you need, the team can make it. We can design, manufacture, and install all sorts of outdoor signs, such as storefront signs, outdoor banners, and many more. Whichever industry you may need, we can handle it for you and design it perfectly so that it matches your brand and get you the customer flow you need to build your business.
We create signs and base it with the current guidelines for your industry and location, as well as take into consideration your brand, style, and other key elements. This is important because it will keep your brand consistent and provide an image of professionalism to your business. If you really want it to be eye-catchy, Stryker Designs, LLC will make your signs perfect each time you reach out.
Call Stryker Designs, LLC at (512) 601-8440 for a Free Consultation!
Storefront & Building Signs

If you want people to know you are in the area offering products and services, you can effectively accomplish that through your blend of storefront and building signs.
Getting these signs made will need to be done carefully because you need to know how large it should be, what style it must have, and where it can be placed for additional visibility. We can help you identify the best style, size, and placement for your storefront signs and take your requirements into account. The result will be a sign that will match your business goals perfectly.
We also listen to all your needs when we design these signs and even find out about your competition and location because it will help us understand what kind of sign will work perfectly for you.
Channel Letters & Dimensional Letters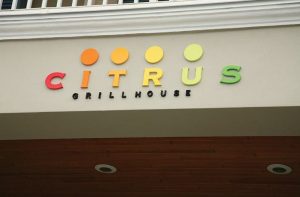 For simple yet sophisticated signs, you may want to consider channel and dimensional letters for your storefront. These signs are highly-customizable despite their size and can provide a great way to add some class to your storefront. It could be in the form of numbers, logos, symbols, and even simple letters in your brand's colors.
You can control everything in the design of these signs, including the placement. We can provide the recommendations necessary to ensure that the sign is working perfectly for you, and it can be read by those who see it.
Lighted Signs
There are businesses that run even at night or only open at night, such as theaters, convenience stores, gas stations, and restaurants. For them, lighted signs are important because they will tell customers that they are available even at night, as well as see the location of the building, even in extreme weather conditions.
For these signs, we can provide you with several sign options – from the style of the signs to the lights that it will use. We can even do neon lights that are wallet-friendly and won't cost you a lot of money to use and maintain.
Custom Sign Panels
Another flexible signage that you can use for your storefront, especially if you are a small business, manufacturing plant, auto repair center, and other similar establishments, are sign panels.
Sign panels can be made from a variety of materials and styled in many different ways. They are usually solid panels that list down your business name and all the other business details you want people to see. It can also be a simple photo or a graphic that is related to your business. Since they are very simple, they don't take a lot of time to make and are very cheap to produce.
When you request for these signs, we can add lightboxes on them or make the print translucent. We will also use your business, industry, and location to figure out how to design these sign panels better.
Canopy & Awning Signs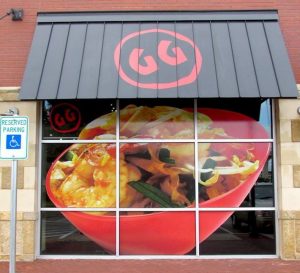 Want to give people some shelter while letting them memorize your brand? Canopy and awning signs are the perfect signs to use for this instance. These signs can display your business logo and information while protecting the people from the elements.
These signs are often used by salons, jewelry stores, specialty stores, and hotels to provide people with a welcoming atmosphere in their property, as well as let them see what you have to offer without worrying about the weather. Awning signs are preferred by some businesses because they are made from stretched canvas that offers an overhang for people to enjoy. We can print your business information directly in the canvas, as well as other branding messages you want us to put.
Monument Signs
If you want to make a lasting, positive impression even before people enter your establishment or space, you want to check out monument signs.
Monument signs are permanent signs that can withstand any weather and are usually placed in entrances, displaying information about your business and other information. When we create monument signs, we can add lighting, digital message boards, and use a variety of materials to make it stand out from other monument signs around you. We can even make it modern based on your preferred style with no problem at all.
Pole Signs & Pylon Signs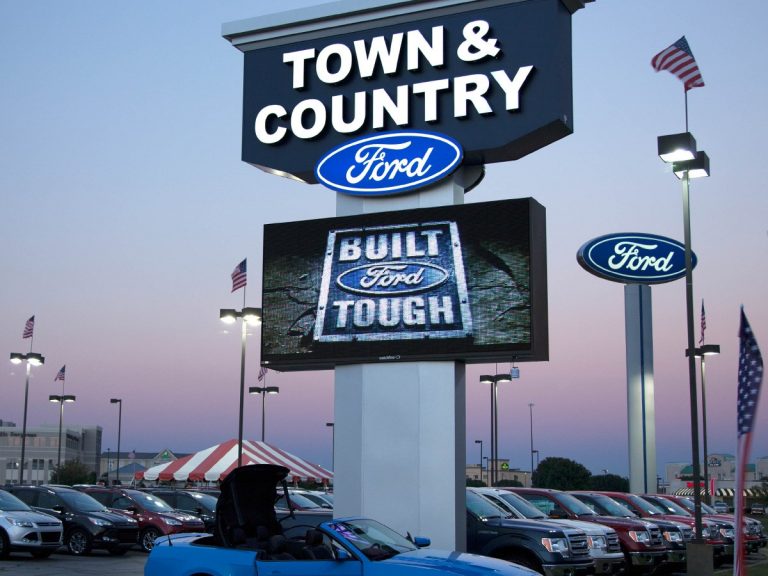 The best way to reach out and attract customers even from a distance is by using pole and pylon signs.
These signs can bring in traffic and reinforce your brand, especially if you do not have a storefront or if you are located far away from the road. These signs can be made in various heights, display types, and sizes, and we can determine which one works perfectly for you. These signs are often used by shopping centers, supermarkets, gas stations, and other businesses that do not have visibility from the road.
Complete Exterior Signage Provider
Outdoor signages can provide a lot of benefits to businesses, from providing brand visibility to improving customer perception. Whether you need simple signage for a promotional activity or to provide identification signs for your customers to see that you are available and offering your services, we can make it here at Stryker Designs, LLC.
We can also recommend the best type of outdoor sign to work for your business. We even do indoor signs, so let us know what you need, and our Davilla outdoor signs and graphics experts have you covered.
Our other exterior signs include:
Can't see the sign you want for your business? The list above is just some of the signs we can create. We have all the modern signage tools, techniques, and knowledge necessary to create any type of sign you need. Our consultants and designers are ready to design it for you and make it a reality.
Full-Service Exterior Sign Company
Stryker Designs, LLC is an Davilla, TX exterior signage company that provides full-service for anyone who needs signs. This means that we can create signs from its design, fabricate things in-house, and install them in your chosen location. We can utilize your current signage elements if you wish to use for your new signs and upgrade them if necessary. If not, our graphic designs will take a look into the current guidelines for the industry to design a new one for you.
You have full control over how we will adjust your signage until it is perfect for your needs and preferences. We can present you with samples so you can tweak everything to your preferences. Once the design is perfect, we will use your chosen materials to fabricate your signs with our equipment in-house. We can also sort out the permits for your signs if you need it before we install your signs to your location.
When the signs are fabricated, our staff of expert sign installers are ready to install them in your location and ensure that it is securely fastened in the areas it should be placed. They can also recommend the areas where it will get immense attention to support your business goals.
Free Outdoor Sign Consultation
When you need Davilla outdoor signs that stand out from your competitors, you will not go wrong with the signs created by Stryker Designs, LLC. The team can create any type of outdoor signs in the market that will support your business goals, improve your brand visibility and garner the support of your chosen market. Let us know what you need, and we will provide you with expert assistance and the signs that will make a difference for your business.
Call Stryker Designs, LLC at (512) 601-8440 for a Free Consultation with an Exterior Sign Specialist!