Oglesby Vehicle Wraps
View Vehicle Wrap Gallery
Attract attention, build your brand, and add professionalism to your business fleet vehicles with the help of your Oglesby vehicle wraps & graphics provider, Stryker Designs, LLC. We create vehicle wraps for all types of vehicles and help businesses improve their brand visibility and achieve their business goals.
Wherever you use your cars, trucks, vans, or trailers, we can create the perfect vinyl wrap to suit your brand, promotional needs, and the vehicle itself. Our team can design an attractive and engaging wrap, manufacture it to exacting specifications, and install it perfectly so that the car looks smooth once the wrap is on. We can even customize the design and offer a variety of coverage levels, so you get a final product that is truly different from your competitors.
From simple vehicle wraps to graphics, our team of Oglesby vehicle wrap experts delivers high-quality, effective graphics that make your vehicle and business look great.
Call Stryker Designs, LLC at (512) 601-8440 for a Free Consultation!
Vinyl Graphics, Partial Wraps, & Magnets
Vehicle wrapping can be done in various ways, and sometimes, you don't have to use full wrapping to get your message across. Here are some of the examples of vehicle wraps that we can make for you.
Full Vehicle Wraps
When it comes to full advertisements for your car, the best way to do it is through full vehicle wraps. Full vehicle wraps can cover your entire car's body no matter what size they may be. We can customize these wraps to match your message, brand, and look.
Aside from providing you with a great way to advertise your business, these high-quality vehicle wraps can also protect your car from damage. It also won't damage the surface of your car if you remove it.
Partial Car Wraps
Partial car wraps enable businesses to use only certain parts of their car's body for promotional activity. You can pick any part for this service, and we can construct the design that will match that part once we wrap it. It is also the best wrap to use if you are on a budget but still want to have a wider range for brand visibility and promotion.
Vinyl Graphics
If you don't want to cover your car and want a more flexible way to customize your vehicle, vinyl graphics are ideal. They can be cut in the shape that you prefer, and once in your car, they will look plush and not require a full wrap to be done in the car. You will be able to update the design with these graphics and make small changes if needed. Since they are cut individually, you can add and remove the graphics as much as you need to get your ideal image.
Vehicle Magnets
If you want a vehicle wrap that can be removed from the vehicle and placed back when it is used for business work, vehicle magnets are the way to go. These magnets can have your business information and can be designed in any size and shape, depending on your needs. Once you are done using it for your business, you can easily remove it without damaging the car. It is also the best wrap to use if you are located in a signage restricted zone or if you tend to drive your company car off hours.
Since they can be removed from your car, these magnets are easy to make and can be made available almost immediately.
Perforated Window Film
Some companies prefer complimenting their vehicle wraps with window film to maximize the car's surface for promotional activity and brand visibility. The film can be printed to have your information while still allowing the vehicle's inhabitants to see the road around them. It can also provide privacy to them without affecting the car's natural looks.
Our team can determine how these window films can be done for your vehicle and install them perfectly.
Professionals Wraps For All Vehicle Types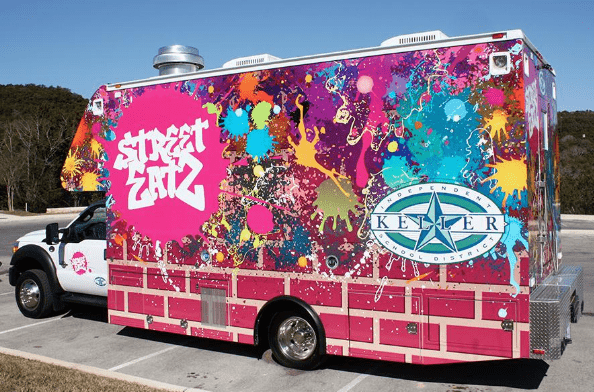 Whether you need a fleet wrap done for your office vehicle or simply want to change the color of your car, Stryker Designs, LLC can make the right wraps and graphics for your needs.
We sit down to find out what you need for your wraps and make sure they are perfectly designed with all the elements you want to show.
When we have everything, we will design your graphics and provide you with a workable quote for the services you will avail from us.
Our vehicle wrap services include:
Aside from vehicle wraps, Stryker Designs, LLC can also do business signage for any occasion, from indoor signs to custom signs. Let us know what you need, and we can definitely make them possible.
Attractive Wraps for Your Entire Fleet
Vinyl wraps are not just for business promotion; they can also improve brand confidence and customer perception. For businesses that have no office spaces or do house calls only, vinyl wraps on their cars will help clients know that you are a legitimate business.
It will also give them some peace of mind that they know what you are offering when they see your car parked.
Any industry can use these wraps and get the benefits it promises to those who use it.
Promotional Car Wraps
Promotional car wraps are the best vehicle wraps to use if you want to attract attention for your business as it goes around Oglesby on its usual runs. Our wraps also provide protection for your car and keep it beautiful, even in harsh weather conditions. We can personalize them with your branding and make it an investment that will rake in funds for you.
It is also ideal to use car wraps if your business does not have a regular location or retail space. If you work from home or don't have an office, vehicle wraps can help you promote your brand and spread your message to your ideal market.
We even do window wraps to keep the look seamless. We make sure it is legal and allow you to get some privacy without getting yourself in danger because of the wraps in your windows.
Your Designs, Perfected
Our graphic designers can help you design your vinyl graphic wraps from scratch or use your existing designs. We can also customize your designs for you to include all the elements you want people to see once they see your vehicles pass by.
If you have a large fleet of commercial vehicles or many different types of vehicles that you use for business purposes, we can create cohesive designs that are perfectly customized to each individual vehicle for maximum impact.
Our Oglesby, TX vinyl wraps team will also guide you through all the options available for your business goals so you can choose the right one.
Full-Service Vehicle Wrapping
When you need perfect vehicle wraps for your fleet, our dedicated staff of Oglesby vehicle wrap experts is ready to assist. We offer a free consultation for clients, so they know what to expect for the wraps once we design it based on your business requirements. We can also answer any question you may have about vehicle wraps and recommend the best ones for your needs. By understanding your brand, needs, and desires, we can create the mockups during our consultation period so you can see how it will look like before we publish it. You can also let us know what you want to change at the same time.
Once you approve the wrap design, we will start fabricating the vinyl elements for your vehicle wrap in our in-house wrap shop. Our vehicle wrap installers will then take the wraps and install them flawlessly in your car, removing bubbles and any imperfections from happening once the wrap is in your car. We also do updates, repairs, and wrap removals if you need it.
Free Vehicle Wrap Consultation
Whether you need your full fleet to be wrapped or a single vehicle wrapped for your business promotions, Stryker Designs, LLC can create the best Oglesby vehicle wraps for your business needs. We provide a free wrap consultation and guide you through the entire process so that you are satisfied with the final wrap, graphic, or magnet product and get everything working for your business.
Call Stryker Designs, LLC at (512) 601-8440 for your Free Consultation with a Vehicle Wrap Specialist!