Chilton Indoor Signs
View Indoor Sign Gallery
For any business type, an appropriate combination of indoor signage will have a major influence on your brand presence, margins, and customer and staff satisfaction. Whether you are reinforcing instinctive wayfinding or inspiring your team, your indoor business signs keep operations running smoothly.
Enlisting the help of a qualified expert makes getting the most appropriate indoor signage simple. Several factors will need to be considered, such as your customer and staff support goals and objectives, how clients and customers find their way around your business, ADA and other legal signage regulations, and even your intended sign use and placement can all have an impact on the type and number of indoor signs you choose for your business.
Chilton indoor sign company, Stryker Designs, LLC, not only understands signage elements, we understand how impactful signage can manage customer flow, inspire your team, and promote brand loyalty. By manufacturing engaging indoor signage elements that are suited to your business, location, and needs, our professionals take your organization to new heights.
If you are relocating your facilities, expanding your business, or you aren't certain which signage elements will help you obtain your business goals, we also provide local on-site signage reviews. This lets us make effective signage product recommendations so patrons and personnel can find their way around your location and easily locate the departments that they would like with very little assistance.
Call Stryker Designs, LLC at (512) 601-8440 for your Free Consultation!
Interior Signage For Office Buildings
Office properties can accommodate several divisions or even different corporations and organizations. Regardless of the project complexity and size of your location, office buildings can certainly be complicated to maneuver through, leaving it up to your front desk staff to provide wayfinding assistance to every guest or visitor.
With appropriate indoor sign and graphic products, customers and guests can get around your office space intuitively, without the help of your front desk staff. From facility maps to ADA and room identification signs and graphics, indoor signage is extremely important to assist with wayfinding and navigation within an office complex.
Branded indoor signage is a terrific choice, as well. Effective led signs, product displays, lobby signs, floor signs, dimensional graphics, and informational signs can be employed to display insights about your brand, your business history, and your products and services. A great number of types of businesses implement a number of sign and graphic elements to reinforce their unique message and brand throughout.
Retail & Restaurant Indoor Signs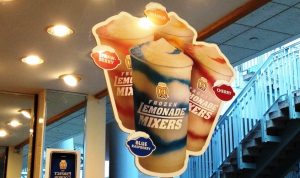 Indoor signs and graphics for restaurants and retail businesses are traditionally driven by product sales instead of brand reinforcement. That doesn't mean that your branding can't be highlighted in all of your business signs and graphics!
Stryker Designs, LLC manufactures effective floor vinyl, menu boards, point of purchase signage, hanging banners, and more that highlights your products and utilizes your logos, fonts, and colors for building brand cohesion in all of your sign elements. We make it simple for your customers and guests to efficiently navigate your store or restaurant, finding the areas, products, and departments needed to complete a transaction. We deliver intuitive signage elements, which means that we understand shopper routines and their expectations for signage, allowing our experts to make sure you are meeting those expectations in your premises.
Signs for Warehouses & Manufacturing
Industrial facilities, manufacturers, warehouses, distribution centers, and factories and similar types of organizations not usually open to the general public still need effective and functional indoor signs and graphics. Whether your goal is to improve morale, remind your workforce of safe practices and potential risks, or explain your brand story through wall murals, displays, and graphics, Stryker Designs, LLC provides the ideal commercial signage blend for your unique needs and location.
Indoor banners, wayfinding signage, wall murals, and safety signs all help support your company goals and objectives, cutting down on the workplace injury risk and constructing a workplace that team members look forward to going to each day. Stryker Designs, LLC is your resource for impactful manufacturing and industrial signage, giving you assistance, support, and guidance, so you get the most impactful signs, graphics, and images for your staff and space.
Cohesive Interior Signs for Business
Properly building your brand demands uniformity throughout all your signage and marketing elements. Utilizing defined brand parameters, and including your brand guidelines in all of your advertising materials, you won't only acquire the much-needed repeat exposure for your brand to be remembered, but will also generate a more thorough, complete visual of who you are as an organization. Our interior signage experts manufacture branded directional signage, window signs, point of purchase signs, department signage, and indoor banners that really flatter your existing signage and branding.




If you want concept, layout, or design services, our talented sign design specialists know how to visualize the perfect custom commercial indoor signs for your organization.
Every Indoor Sign Your Business Needs!
You can always rely on Stryker Designs, LLC to deliver engaging, eye-catching indoor signs and graphics.
From promotional signs to indoor banners, our experts see the specific requirements of specific niches. Our team considers your business goals, physical space and facilities, and brand personality and guidelines so we can develop the best signage components for your business.
If you want one particular sign or graphic or a cohesive combination of commercial and promotional signage, Chilton, TX indoor signage company, Stryker Designs, LLC, can organize the entire undertaking for your business.
We assure you that your interior signs will be high-quality, impactful, and produced using earth-conscious methods and resources any time we can.
Our indoor sign services include:
Need outdoor signs and graphics to match? We can produce those and any other commercial signs, graphics, or wraps you desire as well for a comprehensive, fully-custom look throughout!
Full-Service Interior Sign Manufacturers
As a local, dedicated Chilton indoor sign partner, we supervise every single aspect of sign conceptualization and fabrication.
From the very first meeting and conceptualization to graphic design, manufacturing, and eye-catching installation, we have specialists to provide assistance during every stage. We make sure you get the perfect signage elements, in the most effective size and shape, with the most effective message, placed in the proper position, every single time.
As your dedicated sign professionals, we provide you with on-location evaluations of your commercial sign and graphic requirements, developing appropriate recommendations regarding precisely which signage elements will best suit your area. As talented sign designers, we provide useful, practical sign components that are easily observed, acknowledged, and remembered.
Our sign and graphic fulfillment experts ensure each and every component of your custom signage is developed exactly to spec, and that every component works together as planned. We have stringent quality standards for your total satisfaction. Our sign installation specialists are speedy and efficient, finishing the work as rapidly as possible while still fulfilling our high-quality standards.
Whenever you desire impactful indoor signs and graphics that are affordable, supportive, attractive, and eye-catching, our local Chilton indoor signage experts at Stryker Designs, LLC will deliver just what you need.
Free Expert Indoor Sign Consultation
Stryker Designs, LLC looks forward to marking a positive impression on you with our customer and client support, expert sign designers, and superior sign construction. Our reliable, experienced Chilton indoor sign company staff is eager to conceptualize and fabricate all of the indoor signs necessary to effectively improve customer service, navigation, product promotion, or brand identification.
Call Stryker Designs, LLC at (512) 601-8440 for your Free Consultation with an Indoor Signs Specialist!